Take it on the Gin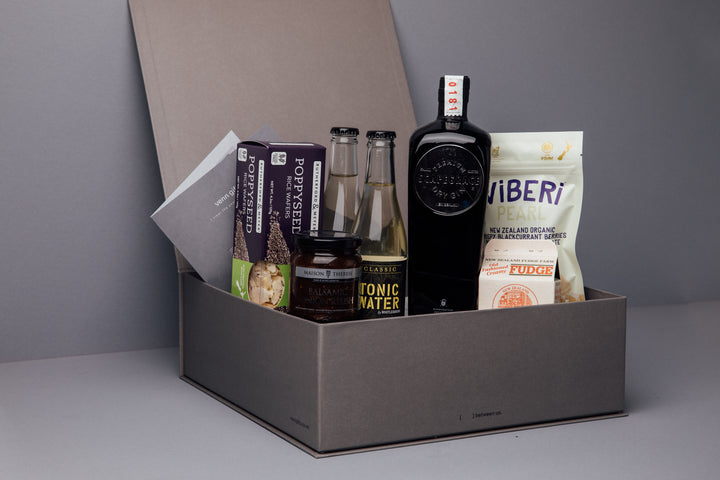 To have the Best Gin box, You need the best Gin.
Scapegrace won the award for the best dry Gin in the world. So partner this with NZ made Bootleggers Tonic, and South Island sourced black-currents rolled in white chocolate you have yourself a one way ticket to the top of the favourites list. 
Scapegrace Award winning Gin 700ml

2x Bootleggers Classic Tonic

Fudge Farm Fudge

Maison and Therese Relish

Rutherford and Meyer rice wafers

ViBERi PEARL Organic White Chocolate Rolled Crispy Blackcurrants
Add your personalised note, receive FREE SHIPPING at the checkout and you're done. Making great gifting simple.

**Please note that due to the nature of our boutique product sourcing, we may end up having to send out something a little different to what's pictured. We promise that in the case that we need to do this, we'll replace the product with something similar, of equal or higher value, and of course supporting local NZ businesses, with all NZ made products.
Dispatch Time frames
For orders received before 3pm Monday-Friday. Boxes are dispatched the same day
Orders received after 3pm will be on the first next day courier.
Orders received after Friday 3pm will be dispatched on the first Monday courier
Delivery
A signature may be requested on delivery
If the Gift box contains alcohol, proof of age may be requested on delivery
Unfortunately we cannot deliver to PO boxes
Since we are a online business pick ups are not available.
Urgent Delivery
For any urgent orders. Please email nigel@venngifts.co.nz and we will do all we can to get this delivered on time for you.
These terms and conditions regulate the business relationship between you and us. By using Our Website in any way, or by buying from us, you agree to be bound by them.
No person under the age of 18 years may purchase Goods which include Alcohol. We look forward to seeing you again when you are over 18.
View our Full Terms and Conditions